El Paso High School
Class Of 1970
Centennial Celebration
100 Year Celebration Plans
EPHS Centennial Celebration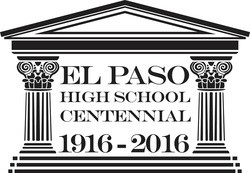 EPHS Alumni Series:
January 2016 100 Years of Excellence of History
21, 7:00 PM

March 2016 100 Years of Excellence in Sports
24, 7:00 PM
May 2016 100 Years of Excellence in Military
12, 7:00 PM
June 2016 Centennial Class Graduation-EPHS Jones Stadium
September 2016 100 Years of Excellence in Academics and the Arts
8, 7:00 PM

September 2016
13, 9:00 AM "El Paso High School Day" City proclamation
18 El Paso High School's 100th Birthday

October 2016 Centennial Festival
3-8 El Paso High School Homecoming Week
6, 3:45-10:00 PM Eve the E Celebration
7, noon-8:00 PM El Paso High School Open House
Guinness World Record Registration
Decade Reunion receptions throughout El Paso
8, Campus Tours
11:00 AM Battle of the Claw Game: El Paso HS vs. Austin HS
3:00 PM Guinness World Record Class reunion attempt
9:30 PM Alumni Band Concert and Fireworks display

November 2016 EPHS Alumni Series:
17, 7:00 PM 100 Years of Excellence in Leadership
24 Thanksgiving Day Parade: EPHS Centennial Float Entry

* Activities will be updated periodically
*************************
This is from the EPHS Alumni Association...
Howdy fellow Tigers,
You are receiving this email as you are our most active and our most vocal of Tiger Alums. We are a little over a year away from our Centennial Celebration, and we need all of your help.
We have launched an ambitious fundraiser for our celebration. Our goal is to raise as much as we can to have a homecoming that is worthy of our "Lady on the Hill".
What we need from you is your presents and your presence. We need you to give what you can and then give again by sharing the news and need for this event. In other words, we need this to go viral and FAST!
Please click on the gofundme link bellow to give. Then share this in your emails, on your Facebook, your Twitter, or any other way you are in contact with other Tigers.
If everyone gave just $25 we could have an event that will be talked about for generations.
*************************
1916 El Paso High School Celebrates its First Century 2016
The doors opened for the first day of classes at The El Paso High School the morning of 18 September 1916. The school has experienced several "firsts" and other accomplishments since moving to its location "on the hill" overlooking the city. EPHS will mark its first century of leadership and achievement with a year of commemoration and celebration during the 2016 calendar year. The class that graduates in June 2016 will be the Centennial Year Class and the Class of 2017 will have the distinction of being the first class of The El Paso High School's Second Century.
On this page and subordinate pages to come, you may find information about plans for programs and events which are sanctioned for the EPHS Centennial Celebration.
From a meeting on 18 March 2014, between Principal Kristine Ferret and the EPHS Alumni Association's Centennial Celebration Committee, the following preliminary plans were revealed:
The El Paso High School Centennial Celebration will be observed from January through December 2016;

The EPHS Alumni Association will organize two principal events (in addition to its traditional, annual projects) during the Centennial Celebration: a Centennial Carnival on Saturday, 8 October, 2016, and major participation in the Sun Carnival Thanksgiving Day Parade (both projects will involve students and alumni working together);

The Centennial Carnival will attempt to qualify as a new Guinness World Record for the largest high school reunion (current record is 3,299 alumni attendees);

The Centennial Carnival will include the following elements:

An afternoon carnival on campus open to the community;

A late afternoon football game in RR Jones Stadium (possibly with arch-rival Austin Panthers as opponents);

A concert in the stadium following the football game with a fireworks display in the skies above "The School On The Hill";

Alumni Classes holding reunions in conjunction with the Centennial Carnival will be asked to include the Festival in their schedules; there will be events during the day at EPHS on the Friday prior to the Festival, but Friday night will be reserved for class reuion activities as will Sunday;

The EPHS Alumni Association will encourage the Sun Carnival Parade Committee to designate an EPHS Centennial Celebration section in the parade;

The El Paso High School, the EPHS Alumni Association, and other supporting organizations will contribute units such as these to the EPHS Centennial Celebration section of the parade:

A float depicting RR Jones Stadium with the neo-classical, Trost & Trost designed EPHS building as the backdrop; students in period cheerleader uniforms will surround the float;

A trolly commemorating El Paso's public transportation in 1916 will carry all living past-principals of EPHS; EPHS Student Activities Managers, each of whom are alumni of EPHS, will also be featured;

The El Paso High School, First In Texas, Junior ROTC Battalion and drill teams;

The El Paso High School Tiger Pride Marching Band and Tigeretts dance team;

The Centennial Celebration Year El Paso High School Outstanding Ex-Student and possibly previous Outstanding Ex-Students;

The EPHS Alumni Association is exploring the concept of having an orange, block "E" (possibly "EPHS") displayed in lights on the Wells Fargo Building in downtown during the week of the Centennial Festival and possibly during other periods in the Centennial Celebration Year.
The EPHS Orchestra and the Jazz Ensemble are already researching period popular music representing each decade from the 19-teens through the present for presentations throughout the Centennial Celebration Year. The Drama Department is in early stages of creating original vignettes, with authentic costumes, to recreate historic events at EPHS and in El Paso to present in probably four programs during 2016. A Centennial Lecture Series, featuring EPHS Alumni, is also being explored. Traditional events such as Spring Fiesta, Graduation, Homecoming, and the CD Jarvis Basketball Tournament will, of course, have a Centennial Celebration component.